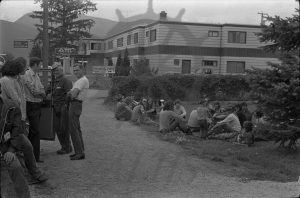 : 2014.018.3526
: S1287-21
:
: 1975-07-30 - --
: 1970s, 515 Broadway Street W, 5th Avenue NW, Broadway Street, Canadian Pacific Railway, Columbia River Shake & Shingle, DuMont Motel, forestry, hotel, Nakusp & Slocan Railway, Nakusp Courthouse, and protest
: Nakusp
:
1 b/w negative (35 mm)
:
Protestors sit on the lawn of the Nakusp Courthouse (415 Broadway Street West) during hearings regarding the proposed abandoment of the rail line between New Denver and Nakusp by the Canadian Pacific Railway, 30 July 1975. Caption from Arrow Lakes News, 6 August 1975: 'A quiet demonstration of workers whose jobs are in jeopardy if the abandonment is allowed was staged outside the courthouse last week near the end of the hearing on the CP Rail abandonment. The afternoon shift of the Columbia River Shake and Shingle mill sat on the lawn and later a number of the workers moved inside the crowded courtroom.' The DuMont Motel is seen in the background.
Purchase Print