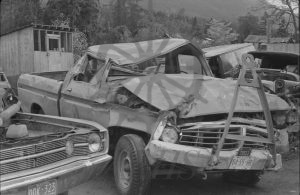 : 2014.018.3239
: S1249-42
:
: 1979-09-
: 1970s, accidents, auto wrecking, automobiles, garage, Hiway 6 Service, and Stainer; Rodney
: Glenbank
:
1 b/w negative (35 mm)
:
A wrecked vehicle stolen by Rodney Curtis Stainer (age 24 of Salmon Arm) from Canadian Cellulose in Nakusp sits in Hiway 6 Service's wreck lot in Glenbank following a fatal accident on Highway 23 one mile south of the Galena Bay ferry. The accident took place on 3 September 1979 at approximately 9:15 pm. Stainer failed to negotiate a corner and rolled the car; he was ejected from the vehicle, which then rolled over him and pinned him in the ditch.
Purchase Print