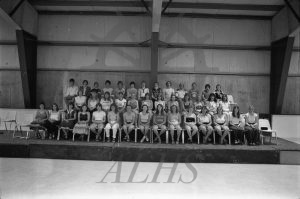 : 2014.018.2912
: S1204A-23
:
: 1982-06- - --
: 1980s, Adshead; Charles, Andrews; Gwen, Brookall; Gary, Browatzke; Roxane, Buerge: Wanda (Dale), Bunt; Jeanette, Cooper; Leona, Dean; Bill, Donselaar; Mike, Friedenberger; Karen, Friedenberger; Richard, Gordon; Cameron, Gordon; Nadine, Hamling; Doreen, high school graduation, Ivens; Shelley, James; Laureen (Hascarl), Kohout; Madeleine, Korchenko; Suzette, Krivsky; Louis, Lancaster; Bud, Lillies; Scott, Linden; Michelle, Marcolli; Megan (Dunn), Matchett; Patty, Morehouse; Cyndee, Nakusp & District Sports Complex, Nakusp Secondary School, Noyes; Joanne, Pedersen; Nita, Reiter; Reneta, school, Scott; Val, Searcy; Alison, Stevens; Sharon, Waterfield; Roger, Wenman; Shelley, Wilcott; Jacqueline, Zeleznik; Connie, Zerrath; Anne, Zimmerman; Laura, and Zimmerman; Linda
: Nakusp
:
1 b/w negative (35 mm)
:
Class portrait, Nakusp Secondary School graduating class of 1982, Nakusp & District Sports Complex, June 1982. TOP (l-r): Mike Donselaar, Bill Dean, Roger Waterfield or Bud Lancaster, Gary Hall, Roger Waterfield or Bud Lancaster, Tim Kosmynka, Richard Friedenberger, Cam Gordon, Scott Lillies, Louis Krivsky, Charles Adshead, Ron Hamling. MID: Gary Brookall, Anne Zerrath, Gwen Andrews, Karen Friedenberger, Madeleine Kohout, Roxane Browatzke, Megan Dunn, Leona Cooper, Nita Pedersen, Michelle Linden, Jeanette Bunt, Cyndee Morehouse, Wanda Dale. BOT: Sharon Stevens, Alison Searcy, Jacqueline Wilcott, Joanne Noyes, Reneta Reiter, Patty Matchett, Linda Zimmerman, Laura Zimmerman, Shelley Wenman, Laureen Hascarl, Nadine Gordon, Connie Zeleznik, Val Scott, Shelley Ivens, Suzette Korchenko.
Purchase Print