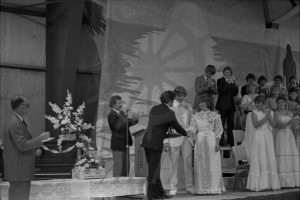 : 2014.018.2896
: S1204A-1
:
: 1982-06-25
: 1980s, Allan Taylor Trophy, Davidson; Gary, Gordon; Cameron, high school graduation, Nakusp & District Sports Complex, Nakusp Secondary School, Robison; Bill, school, Shellon; Bob, trophy, and Wilcott; Jacqueline
: Nakusp
:
1 b/w negative (35 mm)
:
Cam Gordon and Jacqueline Wilcott being presented with Allan Taylor Trophy for contributing most to the graduate class, Nakusp Secondary School graduation ceremony, Nakusp & District Sports Complex, 25 June 1982. Vice-Principal Bill Robison at far left. Teacher Bob Shellon at podium. Presenter is teacher Gary Davidson.
Purchase Print