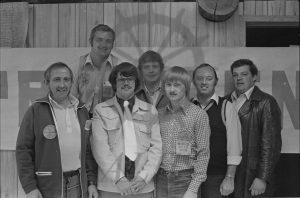 : 2014.018.2831
: S1192G-A40
:
: 1980-05-02
: 1980s, Coult; Len, Dobell; Vern, Fenwick; Bob, Kinsmen Club of Nakusp, Kusch; Ron, McIntyre; George, Miskulin; Clayton, Nakusp Senior Citizens Association Hall, and Pender; Ken
: Nakusp
:
1 b/w negative (35 mm)
:
New executive, Kinsmen Club of Nakusp, Nakusp Senior Citizens' Hall, 2 May 1980, Nakusp. L-R: George McIntyre (registrar), Bob Fenwick (vice-president), Clayton Miskulin (president), Ken Pender (director), Ron Kusch (secretary), Vern Dobell (past president and treasurer), Len Coult (director). MISSING: Larry Fergusson, director.
Purchase Print