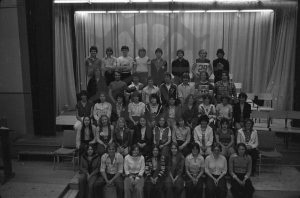 : 2014.018.2819
: S1192F-31
:
: 1979-05-
: 1970s, Bargery; Kathleen, Berry; Kelly, Brewer; Cathie, Cataford; Roland, Coates; Laurie, Desrochers; Joe (younger), Doherty; Mike, Ferguson; Micheal, Flick; Warren, Freed; Cheryl, Friedenberger; Mike, Gordon; Patrice, Grabbe; Sandy, Gustafson; Gord, Halldorson; Len, Hanson; Darlene, Hascarl; Denise, Hatch; Jeff, high school graduation, Jansen; Laurie, Kisch; Duane, Kohout; Harry, Kusch; Carol (Halldorson), McLean; Shawn, Metcalfe; Karen, Nakusp Secondary School, Orr; Robert, Pozdnikoff; Sandra, Reiter; Jean, Robins; Karen, Rogers; Elaine (Homis), Rundberg; Larry, Rupp; Suzan, school, Sinclair; Anita (Noyes), Surina; Len, Volansky; Blair, Wanstall; Darcy (Arnold), Weighill; Cindy, Weighill; September (Gran), White; Shelley (Miskulin), White; Tracy, Wilcott; Carmen, Wilson; Dean, Zanier; Jeannine, and Zeleznik; James 'Jamie'
: Nakusp
:
1 b/w negative (35 mm)
:
Class portrait, Nakusp Secondary School graduating class of 1979, Nakusp Secondary School gymnasium, May 1979. TOP (l-r): Jeff Hatch, Leonard Surina, Jamie Zeleznik, Len Halldorson, Duane Kisch, Gord Gustafson, Warren Flick, Robert Orr. 2ND TOP: Michael Friedenberger, Mike Doherty, Joe Desrochers, Dean Wilson, Larry Rundberg, Harry Kohout, Blair Volansky, Micheal Ferguson. MID: Elaine Homis, Kelly Berry, Denise Hascarl, Darcy Arnold, Carmen Wilcott, Cathie Brewer, Laurie Jansen, Cindy Weighill, September Gran, Sandra Pozdnikoff. 2ND BOT: Patty Gordon, Tracy White, Shawn McLean, Karen Metcalfe, Jeannine Zanier, Jean Reiter, Sandy Grabbe, Anita Noyes, Laurie Coates. BOT: Carol Halldorson, Roland Cataford, Shelley Miskulin, Karen Robins, Cheryl Freed, Suzan Rupp, Kathleen Bargery, Darlene Hanson. ABSENT: Doug Stanley, Catherine Nixon, Leona Zimmerman, Nancy Marshall, Jeff Fehr, Jody Scott, Judy McGinnis, Shelly Doherty, Corey Scott, Gordon Stuart, Andy Kusch.
Purchase Print