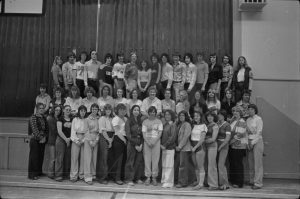 : 2014.018.2815
: S1192F-18
:
: 1980-05- - --
: 1980s, Allard; Elaine, Arnold; Wendy, Baker; Sharon Anne, Baxter; Laura, Bilinski; Kathy (Cameron), Brown; Lewis (younger), Bryden; Colin, Bunt; Colleen, Chernoff; Lorelei, Christen; Ursula, Coltura; Bruno, Detta; Paul, Detta; Warren, Findlay; Laurie, Hascarl; Dean, high school graduation, Homis; Mark, Huyter; Gale, Inglis; Debby, Ivens; Marie, Krivsky; Janice, Lancaster; Guy, Leitch; Leslie (Desrochers), Marlow; Teresa (Anton), Marshall; Lisa, McKee; Candy, Miller; Leanne (Kohout), Milne; Ivan, Misutka; Karen, Moller; Stanley, Moorhouse; Marianne, Nakusp Secondary School, Nielsen; Christine, Noyes; Gayle, Pedersen; Debbi, Perepolkin; Debbie, Posnikoff; Raynelle (Stykel), Pozdnikoff; Nancy, Reiter; Susan, Roberts; Jan, Schneeberger; Sylvia, school, Stykel; Pamela (Klein), Thomson; Fred, Toering; Howard, Waterfield; Eric, Wethal; Darren, and Williams; Rosemary
: Nakusp
:
1 b/w negative (35 mm)
:
Class portrait, Nakusp Secondary School graduating class of 1980, Nakusp Secondary School gymnasium, May 1980. TOP (l-r): Karen Misutka, Raynelle Stykel, Stanley Moller, Warren Detta, Dean Hascarl, Fred Thomson, Darren Wethal, Kathy Cameron, Colin Bryden, Ivan Milne, Guy Lancaster, Paul Detta, Mark Homis, Howard Toering, Eric Waterfield, Laura Baxter. MID: Debby Inglis, Colleen Bunt, Sylvia Schneeberger, Susan Reiter, Debbie Perepolkin, Debbi Pedersen, Ursula Christen, Lorelei Chernoff, Gayle Noyes, Teresa Anton, Gale Huyter, Marianne Moorhouse, Marie Meyers, Lewis Brown. BOT: Candy McKee, Lisa Marshall, Janice Krivsky, Nancy Pozdnikoff, Christine Nielsen, Sharon Baker, Pam Klein, Laurie Findlay, Jan Roberts, Leslie Desrochers, Laura Coltura, Leanne Kohout, Elaine Allard, Wendy Arnold, Marie Ivens, Rosemary Williams.
Purchase Print