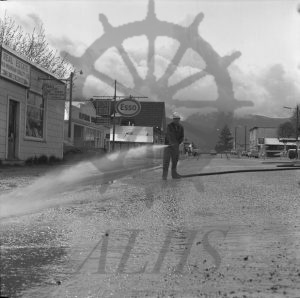 : 2014.018.2455
: S1166-3
:
: 1970-- - 1975--
: 1970s, 208 Broadway Street W, 212 Broadway Street W, Broadway Street, Frank's Sporting Goods, garage, gas station, Imperial Service (Nakusp), McQuair; Bill, restaurant, Rice Bowl (restaurant), store, and street cleaning
: Nakusp
:
1 b/w negative (60 mm)
:
Bill McQuair washing Broadway Street with fire hose in front of Frank's Sporting Goods building (208 Broadway Street W), early-to-mid-1970s, Nakusp. Imperial Service Garage and Rice Bowl Cafe in background at left. Masonic Building and Nakusp Shell Service in background at right.
Purchase Print