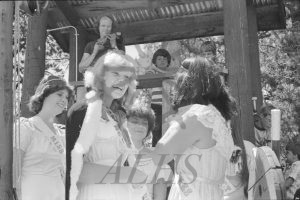 : 2014.018.207
: S014-29
:
: 1978-07-01
: 1970s, Canada Day, Hanson; Joyce (Yano), Hascarl; Denise, Marlow; Teresa (Anton), Metcalfe; Karen, Nakusp Recreation Park, Queen of the Arrow Lakes, Rogers; Elaine (Homis), and Stanley; Denis
: Nakusp
:
1 b/w negative (35 mm)
:
New Queen of the Arrow Lakes Teresa Anton (second left) smiles after being crowned, 1978 Queen of the Arrow Lakes pageant, Nakusp Recreation Grounds. L-R: Elaine Homis (Miss Lions), Anton, Denise Hascarl (Miss Saddle Club), Joyce Yano (outgoing Queen), Karen Metcalfe (Miss Rotary, obscured at back). Arrow Lakes News publisher Denis Stanley is photographer at top.
Purchase Print