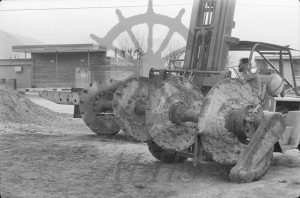 : 2014.018.1872
: S1113-36
:
: 1985--
: 1980s, forklift, Kinsmen Health Centre/Kinship Centre, medical clinic, Nakusp & District Chamber of Commerce, Nakusp post office, Nakusp Visitor Centre, paddlewheel, post office/Canada Post, SS Revelstoke, and sternwheelers
: Nakusp
:
1 b/w negative (35 mm)
:
Forklift in alley beside Nakusp Centennial Building (92 6th Avenue NW) carries the paddle of the SS Revelstoke (formerly embedded in beach at Comaplix) as it is moved to its new location at the Nakusp visitor centre, 1985. Canada Post office seen at back left. Kinsmen Health Centre at back right.
Purchase Print