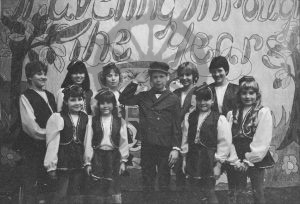 : 2014.018.1741
: S1104C-21
:
: 1985-03- - --
: 1980s, Abbey; Micki, carnival, Dupuis; Bobbi, Dupuis; Michelle, Knecht; Crystal, Nakusp & District Sports Complex, Nakusp Figure Skating Club, Rosler; Melodie, skating, Tice; Shawn, Tourand; Stacy (Miskulin), Wohlford; Angela, and Yamada; Kiyomi
: Nakusp
:
1 b/w negative (35 mm)
:
Nakusp Figure Skating Club Canskate A skaters posing in costume for 1985 Nakusp Figure Skating Club Carnival ('Traveling Through the Years') programme, Nakusp and District Sports Complex, March 1985. TOP (l-r): Bobbi Dupuis, Kiyomi Yamada, Micki Abbey, Shawn Rice, Melodie Rosler, Michelle Dupuis. BOT: Donnette Lancaster, Angela Wohlford, Stacy Miskulin, Crystal Knecht.
Purchase Print