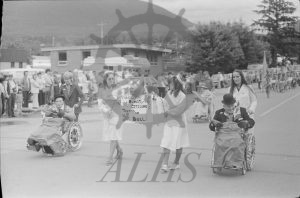 : 2014.018.1209
: S1076C-16
:
: 1981-07-01
: 1980s, Arrow Lakes Hospital, Broadway Street, Canada Day, Curle; Debbie, Gensick; Bobbie, hospital, Jowett; Walter Cyril, Jowett; Wilfrid Deiniol, Kinsmen Health Centre/Kinship Centre, medical clinic, parade, and Rossman; Hazel
: Nakusp
:
1 b/w negative (35 mm)
:
Nurses walking along with Arrow Lakes Hospital extended care residents Wilfrid and Walter Jowett in wheelchairs in front of 619 Broadway Street West during July 1st parade, Nakusp, 1981. Hazel Rossman pushing Walter Jowett in wheelchair at left. Debbie Curle pushing Wilfrid Jowett in wheelchair at right. Nurses holding banner are ? Wiebe and Bobbie Gensick.
Purchase Print