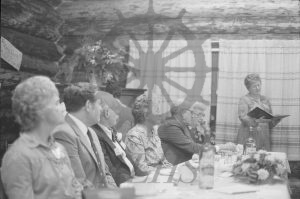 : 2014.018.1052
: S1047A-3
:
: 1985-02-06
: 1980s, Citizen of the Year (Nakusp), Jakobsson; Christina 'Chris', Mayson; Brenda, Mayson; Harry, Nakusp Senior Citizens Association Hall, and Rotary Club of Nakusp
: Nakusp
:
1 b/w negative (35 mm)
:
Woman speaks at Citizen of the Year dinner held by the Rotary Club of Nakusp, Nakusp Senior Citizens Hall, 6 February 1985. Newly anointed Citizen of the year Harry Mayson sits third from left. Wife Brenda Mayson sits fourth from right. Outgoing Citizen of the Year Chris Jakobsson sits at end of table next to speaker.
Purchase Print