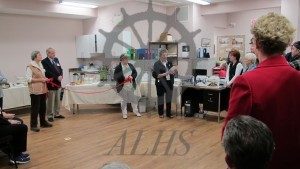 : 2014.010.11
:
:
: 2014-04-05
: 2010s, Arrow Lakes Historical Society, Arrow Lakes Historical Society Archives, Callow; Patti (Desrochers), Herridge; Bev (Gustafson), Nakusp Centennial Building, Parent; Rosemarie (Portelance), Taylor; Marilyn, and Williams; Ken
: Nakusp
:
1 colour photograph (3648 x 2048 pixels)
:
Arrow Lakes Historical Society president Rosemarie Parent speaks at opening ceremony for new ALHS Archives building attached to Nakusp Centennial Building, 92 6th Avenue NW, Nakusp, 5 April 2014. L-R: Marilyn Taylor (vice-president), Ken Williams (treasurer), Bev Herridge, Rosemarie Parent (president), Patti Callow, Jan Payson. Betty Miller and Wells Marshall seen at back against wall. Ed Conroy and Katrine Conroy have back to camera at right. Art Joyce of the Valley Voice at far right.
Purchase Print