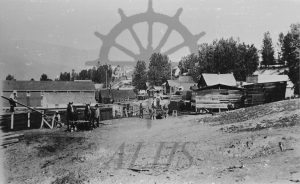 : 2014.003.975
: B3-22
:
: 1900-- - 1909--
: 1900s, Bay Street, Grand Hotel, horse, Lee's Laundry, Leland Hotel, Nakusp Trading Co., P. Genelle & Co., sawmill, Upper Arrow Lake, and Yale-Columbia Lumber Co.
: Nakusp
:
1 b/w negative (35 mm)
:
View of P. Genelle & Co. mill at Nakusp with workers posing with horses in front of mill buildings, ca. 1900s. Leland Hotel and Grand Hotel visible on hillside at top centre. Businesses of Bay Street visible behind lumber piles at centre. Thomas' Abriel's Nakusp Trading Co. store is white building with porch at centre. Lee's Laundry immediately to right of Nakusp Trading Co.
Purchase Print