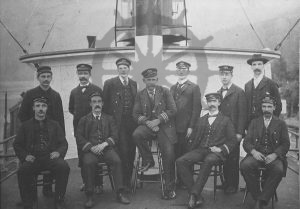 : 2014.003.965
: B3-10/B41-21
:
: 1898--
: Annie Sendey and Catherine Fyfe
: 1890s, Buchholz; Frederick A. 'Fred', Cook; Harry, Fyfe; Jack, Gore; John C., Kirby; William Jr., SS Minto, sternwheelers, Taylor; James 'Jim', Troup; Roy, Wright; Walter, and Young; Jack
:
2 b/w negatives (35 mm)
:
Portrait of first crew on SS Minto, 1898. TOP(l-r): Walter Wright (night watchman), Harry Cook (expressman), Roy Troup (mate), Pleti? (freight clerk), Fred Buchholz (steward). BOT: Jack Young (2nd engineer), Jack Fyfe (chief engineer), Captain J.C. Gore, Jim Taylor (purser), William Kirby (mate).
Purchase Print