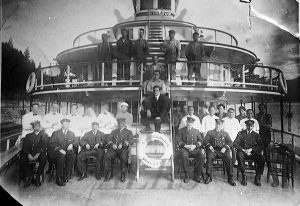 : 2014.003.956
: B3-1/C11-35
:
: 1921--
: Amy Denholm and Archie Herridge
: 1920s, Buchholz; Frederick A. 'Fred', Davies; Horace, Denholm; Amy (Gardner), Evans; Bill, Fitzsimmons; Capt. James, Ianson; Tom, Ivy; William, Johnson; Capt. Charles, Kirk; R., Lee Ham, Lee Jim, Lee Kie, Lee Tom, Lee Wong, Liebergall; A., Millar; John, Oliver; Ambrose, Perdue; P., Peterson; S., Potts; Reginald, Schlag; Percy, SS Bonnington, sternwheelers, Truit; G., Webster; D., Wilson; G., and Wright; Walter
:
2 b/w negatives (35 mm)
:
Crew portrait on bow of SS Bonnington, Arrow Lakes, 1921. TOP DECK(l-r): Percy Schlag (fireman), A. Liebergall (deckhand), Reginald Potts (fireman), William Ivy (fireman), A. Oliver (coal passer). STAIRS (top-bottom): ?, P. Perdue (deckhand), Walter Denholm (government mail clerk). TOP LEFT(l-r): ?, Max ?, D. Webster (3rd waiter), G. Truit (2nd waiter), R. Kirk (1st waiter), Lee Jim (chief cook). BOT LEFT: Charles Johnson (2nd officer), S. Peterson (2nd engineer), Tom Ianson (chief engineer), Walter H. Wright (1st officer). BACK RIGHT: ?, ?, Bill Evans, John Millar, ?, ?. MID RIGHT: Lee Kie, Lee Wong, Lee Ham, Lee Tom. BOT RIGHT: Captain James Fitzsimmons, Horace H. Davies (purser), G. Wilson (assistant purser), legs visible of Fred Buchholz (chief steward).
Purchase Print