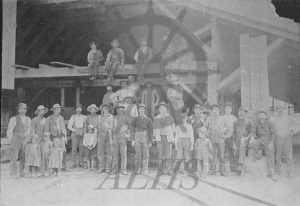 : 2014.003.916
: A49-16
:
: 1898-- - 1902--
: 1890s, Clemons; Bill, Genelle; Art, Genelle; Jack, Genelle; Joseph, Genelle; Mildred, Genelle; Peter, Goupille; Dan, Gunterman; Will, Hayward; Bill, P. Genelle & Co., Parent; Joseph Sr., Poupore; Willie, sawmill, St. Denis; Denis, Stickney; Mercedes 'Marcy' (Genelle), and Yale-Columbia Lumber Co.
: Nakusp
:
1 b/w negative (35 mm)
:
Large group portrait of mill workers at P. Genelle & Co. mill, Nakusp, ca. turn of 20th century. Peter Genelle, Joseph Genelle, and Jack Genelle at left with children Mildred Genelle, Art Genelle, and Marcy Genelle. Denis St. Denis 8th from right. Dan Goupille 7th from right (short man standing in rail tracks) next to Willie Poupore (boy). Joe Parent Sr. 5th from right, Bill Clemons 3rd from right, Bill Hayward 2nd from right. Will Gunterman in rafters at right.
Purchase Print