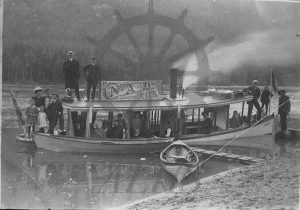 : 2014.003.876
: A47-20
:
: 1910-- - 1912--
: Amos Burling and J.G. Craft
: 1910s, Abbie; Bob, Abey; Frank, Abriel; Thomas, Baird; Mary, Bulger; Dave, Bush; Carsey, McDougald; Lyland Franklin 'Lyle', Minerva (boat), Nakusp Amateur Dramatic Society/Nakusp Dramatic Club, Upper Arrow Lake, Williams; Bob, and Yingling; Mike
: Nakusp
:
1 b/w negative (35 mm)
:
Group photo of club members on boat Minerva bearing 'N.A.D. Club' (Nakusp Amateur Drama Club) banner, 1910-12. Dave Bulger (owner) standing on top of boat at left. Frank Abey family at rear of boat below Bulger with Bob Abbie at front. L-R inside boat: McKittrick, ?, ?, Mary Baird, Thomas Abriel, ?, boy, R.C. Bush, Lyle McDougald, boy, Bob Williams, ?, Mike Yingling. Boat would sink in 1915.
Purchase Print