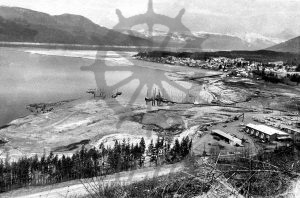 : 2014.003.8647
:
:
: 1969--
: 1960s, Arrow Lakes flooding (Columbia River Treaty), Celgar (Columbia Cellulose/Canadian Cellulose), forestry, Highway 6, Nakusp Public Wharf, Rothwell Bay, Rothwell Point, Rothwell Point wharf (modern), Spicer Farm, and Upper Arrow Lake
: Nakusp
:
1 b/w photograph (4000 x 2640 pixels)
:
Bird's-eye view of Nakusp townsite and Rothwell Bay, Upper Arrow Lake, at low water as seen from Nakusp & Slocan Railway lookout following one season of fluctuations from new reservoir, ca. 1969. Celgar yard at Rothwell Point seen at bottom right. New Highway 6 at bottom right. Original Highway 6 roadbed runs from new Nakusp Public Wharf along water underneath new Rothwell Point wharf. Ruins of original Spicer Farm at centre right.
Purchase Print