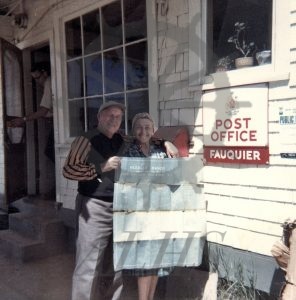 : 2014.003.8565
:
:
: 1967--
: 1960s, Devlin; Giselle (Spiller), Fauquier post office, Fauquier: A.R., Fauquier; Frederick G. 'Fred', Ferry Service Station, garage, gas station, map, Needles Ranch (Fauquier), and post office/Canada Post
: Fauquier
:
1 colour photograph (912 x 924 pixels)
:
A.R. Fauquier, cousin of Fauquier townsite namesake Fred Fauquier, posing with Fauquier postmaster Giselle Devlin at Devlin's Ferry Service Station/Fauquier post office, 1967. Fauquier is holding an original map of Fred Fauquier's Needles Ranch, which formed the basis of the original Fauquier townsite and would be redeveloped two years after this photo was taken into the Fauquier & District Golf Club following the construction of the new Fauquier townsite.
Purchase Print