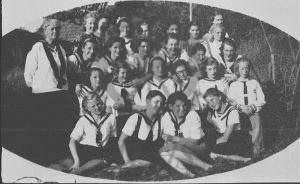 : 2014.003.814
: A45-1
:
: 1939--
: 1930s, Anderson; Alice (Humphris), Anton; Bea (Steenhoff), Berard; Vivian (Reyden), Bill; Letitia, Boden; Mary, Bradbury; Nellie (Humphris), Burgoyne; Irene (Buerge), Busby; Gladys (Olson), Canadian Girls In Training, Coates; Georgina 'Dodie' (Munn), Crump; Bernice (Jordan), Fellows; Hazel (Herridge; Ward), Grahame; Louise (Brodie), Horrey; Edith 'Edie', Humphries; Charlotte (Barrow), Johanson; Vera, Johnson; Nellie (Horrey), Leary; Sheila Florence (Firbank; Fleming), McCusker; Gladys 'Gay' (Barrow), Miller; Evelyn (Davison), Morrow; Margaret (Salstrom), Nelson; Freda (Johanson), Shelling; Alice, Sutherland; Kathleen 'Kay', Welch; Dorothy, and Woods; Ruth (Johnson)
: Nakusp
:
1 b/w negative (35 mm)
:
Group portrait of Nakusp CGIT (Canadian Girls in Training) members in uniforms (outdoor), 1939. TOP (l-r): Hazel Herridge, Nellie Humphris, Mary Boden, Charlotte Barrow, Evelyn Davison, Alice Shelling, Bea Steenhoff, Alice Humphris. 2ND: Leticta Bill, Gay Barrow, Irene Buerge, Sheila Leary, Edith Horrey, Vera Johanson, Dorothy Welch. 3RD: Nellie Horrey, Freda Johanson, Kay Sutherland, Louise Brodie, Margaret Salstrom, Ruth Johnson. BOT: Gladys Olson, Dodie Munn, Bernice Jordan, Vivian Berard.
Purchase Print