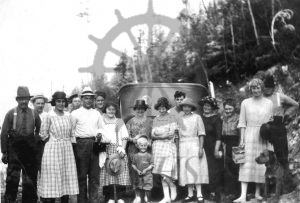 : 2014.003.7990
:
:
: 1923-- - --
: 1920s, Devlin; Giselle (Spiller), Forslund; Albert, Forslund; Alfreda, Forslund; Freddie, Forslund; Frieda, Hartinger; Erma (Spiller), Highway 6, Spiller; Barbara, Spiller; Isabel, and Spiller; Walter
:
1 digital image (1605 x 1083 pixels)
:
Large group of people posing together on Monashee Highway, ca. 1923. Albert Forslund at far left. Erma Spiller 3rd from left, Walter Spiller 5th from left, Giselle Spiller 7th from left, Alfreda Forslund and son Freddie Forslund at centre, Barbara Spiller 3rd from right, Freda Forslund 2nd from right.
Purchase Print