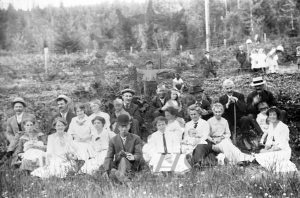 : 2014.003.7953
:
:
: 1903-- - 1905--
: 1900s, deGans; Minnie (Aalten), Hamling; Chris Sr., Harlow; Sam, Harlow; Sam Jr., Lieb; Ida (Harlow), picnic, Pigott; Vera (Wensley), Wensley; Fred, Wensley; Jack, Wyrill; Fred, and Wyrill; Mrs.
: Brouse
:
1 b/w photograph (1556 x 1028 pixels)
:
Large group of picnicgoers in grass, Brouse, early 1900s. BEHIND FENCE: Bill Aalten, ?. TOP (l-r): Sam Harlow, Chris Hamling, Rose Hamling, ?, Belsham, Fred Wensley, Vera Wensley, Jack Wensley, minister, Wyrill. BOT: Harlow, Ida Harlow, Minnie Aalten, Belsham, Aalten, Aalten, Wensley, ?, Hascarl, Taylor, Sam Harlow, Wyrill.
Purchase Print