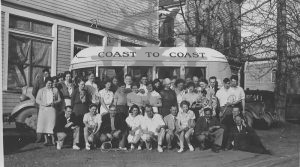 : 2014.003.790
: A43-19
:
: 1935-- - 1940--
: 1930s, 409 Broadway Street W, badminton, Brekke; Doris (Watson), Broadway Street, bus, Corrigan; Florence, Edgewood Badminton Club, Gardner; Hunter Jr., Hakeman; Grace (Jordan), Jordan; Rollie, Nakusp Badminton Club/Nakusp Racquet Club, Opera House (Nakusp), and Taylor; Naomi
: Nakusp
:
1 b/w negative (35 mm)
:
Nakusp Badminton Club & Edgewood Badminton Club group portrait in front of bus parked in front of Opera House (409 Broadway Street West), Nakusp, ca. 1930s. FRONT (l-r): Rollie Jordan, Grace Hakeman, ?, Doris Watson, Hunter Gardner, ?, ?, ?, ?, ?. Florence Corrigan and Naomi Taylor at centre behind Watson and Gardner.
Purchase Print