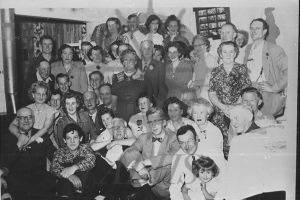 : 2014.003.788
: A43-17
:
: 1955--
: 1950s, Baird; Les, Baird; Marsden, Baird; Mary, Baird; May (Talbot), Baird; Mildred, Bruce; Don, Haines; Gordon, Haines; Louise, Haines; Mary (Henke), Hamling; Alma (Henke), Hamling; Bob, Hamling; Chris Jr., Hamling; Doreen, Hascarl; Allan, Hascarl; Dawn (Anderson), Hascarl; Louis Ferdinand, Hascarl; Martha (Henke), Hascarl; Neil, Henke; Bill, Henke; Clara, Henke; Dorothy (Bedford), Henke; Eva (Leverington), Henke; Gustav 'Gus', Henke; Marion (Baird), Henke; Marteen/Martin, Henke; Walter, Islip; Ralph, King; Alice (Baird; LaRue), MacPherson; Faye (Haines), Messenger-Hakeman; William George 'James', Olson; Signa (Menzies), Pakula; Jeanette (Henke), Reyden; Corey, Reyden; Sophia (Bergwerf), Rogers; Gertrude (Henke), Schappert; Irene (Hamling), Schappert; John, Steenhoff; Albert Anton 'Bert', Steenhoff; Marg, wedding anniversary, and Wensley; Jack
: Brouse
:
1 b/w negative (35 mm)
:
Large group photo in Henke house to celebrate 50th wedding anniversary of Gus Henke & Clara Henke, Brouse, 1955. TOP(l-r): Alma Hamling, Chris Hamling, Jeanette Henke, May Baird. 2ND:Les Baird, Eva Henke, Bob Hamling, Doreen Hamling, Dawn Hascarl, Faye Haines, Clara Henke, Gus Henke, Signa Olson, Dorothy Bedford, Marg Steenhoff, Alice LaRue, Marsden Baird, Mary Baird (below), Sophie Reyden, John Schappert. LEFT 3RD: Cornelius Reyden, Paul Henke, Walter Henke. LEFT 4TH:Gertrude Rogers, Neil Hascarl, Irene Schappert, Marteen Henke, Bill Henke. BOT: James Hakeman, Allan Hascarl, Marion Henke, Ralph Islip, Mary Haines, Don Bruce, Martha Hascarl, Louis Hascarl, Mildred Baird, Jack Wensley, Bert Steenhoff. SEATED, FRONT RIGHT: Gordon Haines, Louise Haines.
Purchase Print