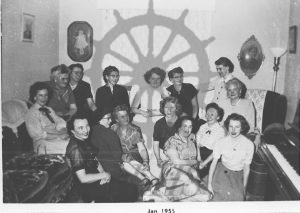 : 2014.003.776
: A43-6
:
: 1955-01-
: 1950s, Beingessner; Laura (Robson), Herridge; Ella (Leppingwell), Horrey; Yvonne (Gregory), Jansen; Olive 'Ponnie' (Young), McMullen; Betty, Parent; Della (Leveque), Robson; Ella (Rees), Robson; Eva, and Robson; Rosie (Wanstall)
:
1 b/w negative (35 mm)
:
Group portrait in living room of Ella Herridge, Shoreholme, January 1955. TOP (l-r): ?, Williams, Ponnie Jansen, ?, Rosie Robson, Ella Robson, Laura Beingessner, Wanstall. BOT: Hill, A. Kiric, Ella Herridge, Eva Robson, Betty McMullen, Della Parent, Yvonne Gregory.
Purchase Print