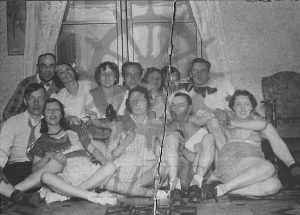 : 2014.003.746
: A41-16
:
: 1935-- - 1940--
: 1930s, Davidson; Elsie (Mayoh), Davidson; Jim, Dodds; George, Harvey; Nellie, Hiltz; Alice (Parent), Hiltz; Harvard, Jones; Albert 'Bert' Sr., Matheson; Archie, Matheson; Mary, Parent; Della (Leveque), Parent; Joseph Jr., and Steenhoff; Hilda (Bakker)
: Nakusp
:
1 b/w negative (35 mm)
:
Group of people seated on living room floor during house party, Nakusp, ca. late 1930s-1940. TOP (l-r): Bert Jones, Hilda Steenhoff, Della Parent, George Dodds, Elsie Davidson, Archie Matheson, James Davidson. BOT: Harvard Hiltz, Mary Matheson, Nellie Harvey, Joe Parent, Alice Hiltz.
Purchase Print