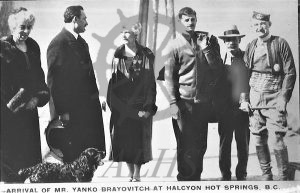 : 2014.003.7447
: H15-2
:
: 1928-04- - --
: 1920s, Brayovitch; Yanko, Burnham; Anna, Burnham; General Frederick 'Fred', Halcyon Hot Springs, Halcyon wharf, and hot springs
:
1 b/w negative (35 mm)
:
Postcard showing group on wharf at Halcyon Hot Springs greeting Montenegrin sculptor Yanko Brayovitch, April 1928. L-R: Mrs. Brayovitch?, Yanko Brayovitch, Anna Burnham, ?, ?, Fred Burnham (with Montenegrin uniform). Brayovitch was there to make stone busts of the Burnhams in honour of Fred Burnham's medical service to the people of Montenegro as head of the White Cross society in World War I.
Purchase Print