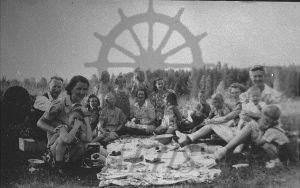 : 2014.003.7274
: H7-12
:
: 1938-- - 1941--
: Baird; Doug, Baird; Mary, Baird; May (Talbot), King; Alice (Baird; LaRue), LaRue; Eliza 'Betty', LaRue; Mary, LaRue; Melvin 'Mel', Oxenham; Bernard, Oxenham; Ernie, Oxenham; Joy, Oxenham; Mildred (LaRue), Oxenham; Shirley, picnic, Turner; Jeannine, Turner; Ruth (Baird), Wilks; Marion, Wilks; Walter, and Yano; Rae (LaRue)
: Nakusp
:
1 b/w negative (35 mm)
:
Picnic, Nakusp area, ca. turn of 1940s. L-R: Ernie Oxenham, Mildred Oxenham, Doug Baird, Betty LaRue, Shirley Oxenham, Mary LaRue, Joy Oxenham, Rae LaRue, Mary Baird, May Baird, Marion Wilks?, Bernard Oxenham, Melvin LaRue, Alice LaRue, Ruth Turner, Jeannine Turner, Walter Wilks?
Purchase Print