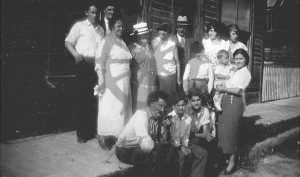 : 2014.003.7106
: G48-15
:
: 1933-- - 1937--
: Boyter; Tom Sr., Burbridge; Elizabeth, Laughton; Bob, Lebeau; Alice (Jacobson), Lebeau; Frances, Metzler; Cecilia (Macdonald; Lindsley), Morgan; Dave, Smith; Harley, Smith; Iris, Smith; Ken, Smith; Pat, store, and Victoria Avenue (Ferguson)
: Ferguson
:
1 b/w negative (35 mm)
:
Group portrait of 14 people on sidewalk at Ferguson in front of store, ca. mid-1930s. TOP (l-r): Bob Laughton, Tom Boyter?, Cecilia Lindsley, Burbridge, Mother Lebeau, ?, Iris Smith, ?. MID: Pat Smith, ?, Frances Lebeau. BOT: David Morgan, Harley Smith, Ken Smith.
Purchase Print