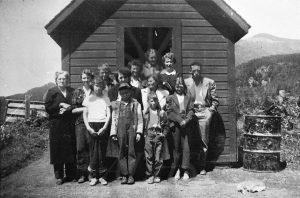 : 2014.003.7011
: G43-26
:
: 1951--
: 1950s, Canadian Pacific Railway, Canadian Pacific Railway station (Crawford Creek), Dishman; Cecil, Dishman; Redgie, Dishman; Sophia, Dishman; Thelma, Edwards; Dorothy (McQueen; Dishman), Johnson; Della (McLeod), McLeod; Annie, McLeod; Florence, McQueen; Carrie, Sim; Alex, Sim; Alexis, Sim; Bertha (McQueen), Sim; Jimmy, and train station
: Sidmouth
:
1 b/w negative (35 mm)
:
Group portrait in front of Canadian Pacific Railway station at 21 Mile, Crawford Creek, Sidmouth, 1951. TOP (l-r): Florence McLeod, Sophia Dishman, Bertha Sim. MID: Redgie Dishman, Dorothy Dishman, Annie McLeod, Alex Sim. BOT: Carrie McQueen, Della McLeod, Alexis Sim, Cecil Dishman, Jimmy Sim, Thelma Dishman.
Purchase Print