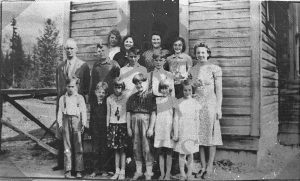 : 2014.003.6972
: G42-22
:
: 1939-- - 1941--
: 1940s, Boudreau; Edgar, Boudreau; Lillian, Boudreau; Yvon, Demers; Leona (Herrmann), Fowlie; Elizabeth 'Betty', Furlong; Cecilia 'Cis', Furlong; Jim, Furlong; Michael 'Mickey', Herrmann; Charlie, Herrmann; Ruth, Lundell; Elaine, Lundell; Thurston, school, Sproat School, and Vigue; Geraldine (Furlong)
: Sidmouth
:
1 b/w negative (35 mm)
:
Class portrait in front of schoolhouse, Sproat School, Sidmouth, ca. 1939-1941. TOP(l-r): Ruth Herrmann, Leona Herrmann, Cecilia Furlong, Carmen Boudreau. MID: Thurston Lundell (teacher), Mickey Furlong, Yvon Boudreau, Charlie Herrmann, Mrs. Elaine Lundell. BOT: Edgar Boudreau, Jimmy Furlong, Lillian Boudreau, Geraldine Furlong, Betty Fowlie.
Purchase Print