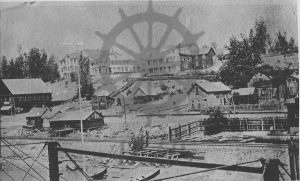 : 2014.003.687
: A39-1/C27-23
:
: 1920-- - 1925--
: 1920s, Bay Street, Canadian Pacific Railway, Grand Hotel, hotel, Leland Hotel, Nakusp & Slocan Railway, Reid's store, and Sutherland house (Nakusp)
: Nakusp
:
2 b/w negative (35 mm)
:
Bay Street, Nakusp, before 1925. Reid store at left. Leland Hotel on hillside above Reid store. Grand Hotel at top centre. Canadian Pacific Railway ice house at bottom left. Sutherland house at right. Notes on CPR ice house: 'Warehouses constructed by Bourne Bros. in 1892 for their store across the road. Used for ice house in later years. Dismantled by gov. in March 1928 (A.L. News)'.
Purchase Print