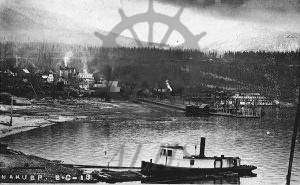 : 2014.003.6866
: G39-22
:
: --
: Jean Takkinen (Estate of Ed Vipond)
: 1910s, Canadian Pacific Railway wharf (Nakusp), Canadian Pacific Railway workshop, forestry, Grand Hotel, hotel, Leland Hotel, postcard, Smuggler (tug), SS Bonnington, sternwheelers, tugboats, Upper Arrow Lake, and Vipond's Poleyard & Shingle Mill
: Nakusp
:
1 b/w negative (35 mm)
:
Postcard, view of Nakusp waterfront from west about 1913. Tug Smuggler in foreground and SS Minto at top right. Ed Vipond poleyard & tug tie mill at centre. Nakusp village at top left. Gallagher's lease for poles in 1912 to the west of photo.
Purchase Print