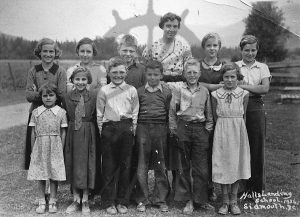 : 2014.003.6644
: G32-6/G36-2
:
: 1936--
: 1930s, Bestwood; Linda (Moorwood), Cameron; Jennie (Vigue), Camponero; Lillian (Vigue), Despot; Joseph, Hall's Landing School, Holdener; Beatrice (Connolly), Markstrom; Leonard, Mason; Jack, Mason; Joseph 'Joe' (younger), McCormack; Nell (Mason), Salter; Alice (Dean), school, Upper; Eileen (Fischer), and Wright; Florence (Vigue)
: Hall's Landing and Sidmouth
:
2 b/w negatives (35 mm)
:
Class portrait in field, Hall's Landing School, 1936. TOP(l-r): Eileen Fischer (Upper), Linda Moorwood (Bestwood), Jack Mason, Alice Dean (Salter), Beatrice Connolly (Holdener), Nellie Mason. BOT: Florence Vigue, Jenny Vigue (Cameron), Joe Mason, Joseph Despot, Leonard Markstrom, Lillian Vigue.
Purchase Print