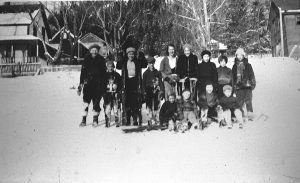 : 2014.003.6600
: G30-25
:
: 1934-- - 1938--
: 1930s, Bysouth; Dorothy, Cowan; Dorothy 'Dorie' (Evans), Crawford; Jim, Hampton; Margaret (Crawford), Kirk; Jim, Manning; Elsie, Manning; Robert Jr., sleigh, and Smith; Eileen 'Sparky' (Evans)
:
1 b/w negative (35 mm)
:
Children posing in in middle of street in winter with sleigh, Arrowhead, ca. late 1930s. McGaghran house on left and Crawford house on right. TOP (l-r): Jim Kirk, Jim Crawford, Elsie Manning, Robert Manning, Dorothy Bysouth, Margaret Crawford, Eileen Evans, Dorie Evans, ?. Front row unknown.
Purchase Print