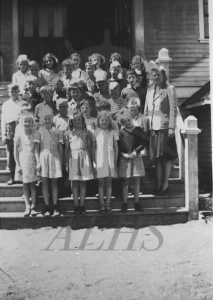 : 2014.003.64
: A4-4/A4-5/B20-20/C19-20A
:
: 1944-- - 1945--
: Della Parent and Milton Parent
: 1940s, Atherton; Bill, Bailey; Gay, Bouvette; Don, Bouvette; Doug, Brown; John, Coates; Louise, Ennest; Anne, Fidek; Frank, Fulkco; Tom, Hamling; Bob, Hanson; Roy, Hascarl; Les, Higgs; Diane (Butler), Hopkins; Howard, Horrey; Yvonne (Gregory), Jansen; Arnold 'Arnie', Mair; Donna (McQuair), Marshall; Don, Nakusp Centennial Building, Nakusp School (1912-1957), Oxenham; Shirley, Pakula; Robert 'Bob', Parent; Rosemarie (Portelance), Robson; Roberta 'Bobbie', school, Simard; June (Gardner), Stanley; Ken, Storgard; Ann, Urban; Julie, Ward; Terry, Waterstreet; Pat, Wetterstrom; Colin, and Yano; Rae (LaRue)
: Nakusp
:
4 b/w negatives (35 mm)
:
Class portrait on steps, Nakusp School, 1944-1945. TOP(l-r): Pat Waterstreet, Gay Bailey, Anne Ennest, Donna McQuair, Lou Coates, Rosemarie Portelance. 2ND: Tom Fulkco, Terry Ward, Don Marshall, John Brown. 3RD: Roy Hanson, Doug Bouvette, Don Bouvette, Julie Urban, Bill Atherton. 4TH: Arnold Jansen, Bob Hamling, Robert Pakula, Howard Hopkins. 5TH: Colin Wetterstrom, Frank Fidek, Ken Stanley, Leslie Hascarl, Diane Butler, Ann Storgard (teacher). BOT: Rae LaRue, Shirley Oxenham, June Gardner, Yvonne Gregory, Roberta Robson.
Purchase Print