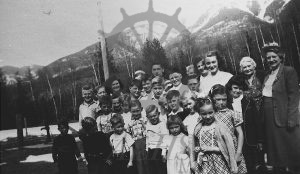 : 2014.003.6374
: G24-5
:
: 1955-06- - --
: 1950s, Allen; Stanley, Allen; Wayne, Beenan; Carol, Beenan; Gail, Davis; Ellen, Douglas; Melvin, Douglas; Norman, Evans; Carl, Evans; Donald, Evans; Peter, Farness; Bobby, Farness; Valerie, Faucett; David, Faucett; Marilyn, Hall's Landing School, Hall; Bill, Hall; David (younger), Hall; Donald, Hall; Evelyn, Hall; Florence, Hall; Hilda, Mackey; Geoffrey, Mackey; Jim, Markstrom; Allan, Markstrom; Gordie, school, and Shaw; Gary
: Hall's Landing and Sidmouth
:
1 b/w negative (35 mm)
:
Group portrait, Hall's Landing School picnic, Sidmouth, 1955 (image developed July 1955). TOP(l-r): Norman Douglas, Wayne Allen, Hilda Hall (adult), ?, Carl Evans, Jim Mackey, ?, Evelyn Hall?, Ellen Davis, Florence Hall (Mrs. Dave Hall), ?. MID: David Faucett, Melvin Douglas, Stanley Allen, Gary Shaw, Allan Markstrom, Gordie Markstrom, Peter Evans?, Geoffrey Mackey, Donald Evans. BOT: Bill Hall, Donald Hall, David Hall (Wallace's boy), ?. Bobby Farness, Valerie Farness, Gail Beenan, Carol Beenan, Marilyn Faucett.
Purchase Print