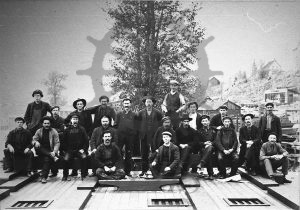 : 2014.003.6346
: G23-2A
:
: 1907--
: 1900s, Anthony; Tom, boat construction, Canadian Pacific Railway, Cowan; Tiny, Hamling; Chris Sr., Lelet; Bill, Nakusp & Slocan Railway, Nakusp shipyard, Stiers; Jim, and Williams; Bill
: Nakusp
:
1 b/w negative (35 mm)
:
Group portrait of workers, Canadian Pacific (Nakusp & Slocan) Railway shipyard, Nakusp, 1907. Bill Williams at top left. Bill Lelet 4th from top left. Fayle? 5th from top left. Tom Anthony 2nd from bottom left. Jim Stiers 4th from bottom left with Chris Hamling directly beneath him. Tiny Cowan at bottom centre to camera right of Hamling.
Purchase Print