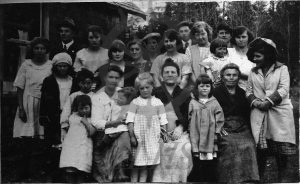 : 2014.003.6266
: G20-7
:
: 1924--
: 1920s, Anderson; Barbara (Masson), Boutilier; Annie, Boutilier; Peteress (Shaw), Brown; Ed, Buckmaster; Alice (Dedoossenco/Dedosenco; Shaw), Clarke; Violet (Dedoossenco/Dedosenco; Dedoe; Wyatt), Dedosenco; Dimitry 'Meta' (Dedoossenco), Froloff; Albert, Froloff; Olga, Hands; Annie (Dedoossenco/Dedosenco), Lebeau; Alice (Jacobson), Masson; Annie, Masson; Chrissie, Masson; Jock, Masson; Peggy, Masson; Steve, Rudd; Karen, Shaw; Bill, Shaw; Elizabeth (Lokker), Shaw; Martha, Shinkorenko; Helen, and Walker; Helen (Dedosenco)
:
1 b/w negative (35 mm)
:
Group portrait at Galena Bay, ca. 1920s. TOP (l-r): Violet Dedosenco, Meta Dedosenco, Annie Dedosenco, Helen Dedosenco, Karen Rudd, Steve Masson, Peteress Boutilier, Albert Froloff, Alice Jacobson, Billy Shaw, Ed Brown, Alice Shaw. BOT (l-r): Chris Masson, Jock Masson with Annie Masson (finger in mouth), Peggy Masson, Barbara Masson, Martha Shaw, Elizabeth Shaw, Annie Boutilier, Helen Shinkorenko, Olga Froloff.
Purchase Print