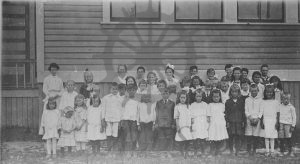 : 2014.003.599
: A34-16/B34-18/D46-16
:
: 1920-- - 1929--
: Ernie Baird and Mary Keys
: 1910s, Baird; Gordon, Baird; Jim, Bowes; Cliff, Dalrymple; Nellie (Johnson; Nesbitt), Davis; Annie (Hascarl), Gardner; Hubert Gifford 'Bert', Gardner; Smith, Glenbank School, Grage; Gertrude, Grage; Gwen, Grage; Hans, Grage; Herbert, Graham; Ethel (Hascarl), Gregory; Wes, Hamling; Alma (Henke), Hascarl; Martha (Henke), Henke; Bill, Jones; Lily (Hascarl), Keys; Mary (Kirk), King; Alice (Baird; LaRue), Kirk; Joe, Moore; Miss (teacher), Neubrand; Emil, Neubrand; Erna, Neubrand; Helene, Neubrand; Lilla, Oxenham; Mildred (LaRue), Parks; Bobbie, Parks; Millie, Parks; Victor, Powell; George, Reid; Mildred (White), Rogers; Bertie, Rogers; Bill, school, Smeal; Alice (Powell), Stanley; Marjorie 'Madge' (White), Walton; Betty (White), White; Fred, White; Walter Robert 'Bob', Woods; Irene, and Woods; Jim Jr.
: Glenbank
:
3 b/w negatives (35 mm)
:
School portrait, Glenbank School children, ca. 1918. BOT(l-r): Nellie Johnson, Helene Neubrand (Newbrand), Lila Neubrand (Newbrand), Lily Hascarl, Bill Rogers, Bert Gardner, Hans Grage, Wes Gregory, Ina Woods, Mildred LaRue, Ethel Hascarl, Martha Henke, Bob White, Betty White, Fred White. TOP (l-r by heads): Miss Moore, Alice Baird, Alma Henke, Gertrude Grage, George Powell, Mary Kirk, Alice Powell, Jim Woods, Erna Neubrand (Newbrand), Bill Henke, Gwen Grage, Mildred White, James Baird, Annie Hascarl, Joe Kirk, Madge White, Herb Grage, Victor Parks, Millie Parks, Cliff Bowes, Bobbie Parks, Helen Gardner, Emil Neubrand (Newbrand), Bertie Rogers, Smith Gardner, Gordon Baird.
Purchase Print