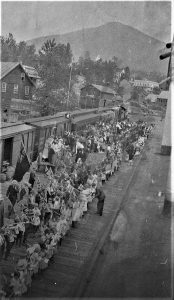 : 2014.003.5942
: G7-15
:
: 1915--
: 1910s, 54th Kootenay Battalion, Canadian Pacific Railway, Canadian Pacific Railway station (Nakusp), Canadian Pacific Railway wharf (Nakusp), F.W. Jordan store, Grand Hotel, hotel, Leland Hotel, Mount Jordan, music, Nakusp & Slocan Railway, SS Bonnington, sternwheelers, train station, Upper Arrow Lake, and World War I
: Nakusp
:
1 b/w negative (35 mm)
:
Crowd on CPR wharf, Nakusp, gathered to send off men embarking to fight in World War I, Nakusp. View is from aboard SS Bonnington. F.W. Jordan warehouse at top left. Group riding on Dilley's wagon at left centre. Band playing at centre. Recruits at right centre. Leland Hotel, Grand Hotel, and Mount Jordan at top right.
Purchase Print