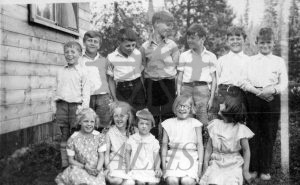 : 2014.003.57
: A3-18/E43-14
:
: 1934-- - 1936--
: Della Parent and Milton Parent
: 1930s, 312 3rd Avenue NW, Barlow; Fred, birthday, Bryan; Dorothy (Herridge), Buerge; Melvin, Clark; Bob, Desrochers; Doreen (Parent), Dolman; Bob, Fellows; Hazel (Herridge; Ward), Gill; Raymond, Humphries; Charlotte (Barrow), McCusker; Gladys 'Gay' (Barrow), Parent; Len, and Reilly; Lloyd Lionel
: Nakusp
:
2 b/w negatives (35 mm)
:
Group portrait of birthday party attendees, Len Parent's birthday party (outdoor), Parent house, Grace Avenue, Nakusp, mid-1930s. TOP(l-r): Len Parent, L. Reilly, Fred Barlow, Bob Dolman, Bob Clark, Ray Gill, Melvin Buerge. BOT: Dorothy Herridge, Hazel Herridge, Doreen Parent, Charlotte Barrow, Gay Barrow.
Purchase Print