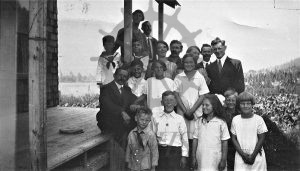 : 2014.003.5691
: F36-4/F37-0
:
: 1926-- - 1929--
: 1920s, Bergwerf; Cornelis 'Cees', Donselaar; Ernie, Donselaar; Nicolaas, Donselaar; Roy, Donselaar; Wilhelmina (Aalten), farms, McLeod; Betty (Donselaar), Nesbitt; Minnie (Donselaar), Reyden; Corey, Reyden; Jack, Reyden; Sophia (Bergwerf), Rogg; Bill, Shipmaker; Henry, Shipmaker; Janet 'Janie', Shipmaker; William Jr., Shipmaker; William Sr., Steenhoff; Margaret (Reyden), and Wetterstrom; Sophie (Reyden)
: Brouse
:
2 b/w negatives (35 mm)
:
Group portrait, Reyden family of Brouse and relatives including Donselaar and Shipmaker families of Edgewood, Reyden farm, Brouse, ca. late 1920s. TOP (l-r): Wilhelmina Donselaar, Jack Reyden. 2ND TOP: Roy Donselaar and Ernie Donselaar (twins), Sophia Reyden, Bill Rogg, Janet Shipmaker, Cornelis Bergwerf, William Shipmaker Sr. 2ND BOT: Nicolaas Donselaar, Corey Reyden, Betty Donselaar, Margaret Reyden. BOT: Henry Shipmaker, Bill Shipmaker Jr., Sophie Reyden, ? Hopp, Minnie Donselaar.
Purchase Print