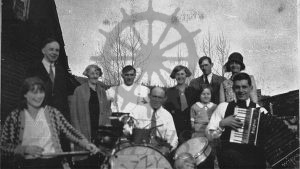 : 2014.003.5689
: F36-2
:
: 1930-- - 1939--
: 1930s, accordion, Atherton; Frank, Davies; Bill, Davies; Lucy (Atherton), drums, guitar, Hanson; Dorothy, Harvey; Thomas George 'Tom Jr.', Jardine; Vera (Davies), Jones; Annie Hilda, music, Ott; Hilda (Oude Steenhoff), Ott; Lawrence, and Oude Steenhoff; Albertus Antonius 'Tony'
: Nakusp
:
1 b/w negative (35 mm)
:
Group posing with instruments (outdoors), Nakusp, ca. 1930s. TOP (L-R): Lawrence Ott, Annie Hilda Jones (Mrs. Hanson's mother), Frank Atherton, Dorothy Hanson, Bill Davies, Lucy Davies, BOT: Hilda Ott, Tony Steenhoff, Vera Davies, Tom Harvey.
Purchase Print