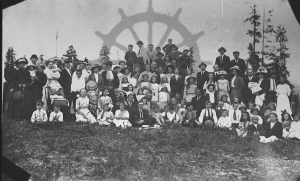 : 2014.003.559
: A32-18/C35-6
:
: 1906-- - 1919--
: Mary Spedding and McDougald
: Allen; Rev. John Salter, Bailey; Jack, Gregory; Charles, Hamer; Ruhama 'Rhuie'/'Ruhie', Kirk; Dorothy, Kirk; Joe, McDougald; Lyland Franklin 'Lyle', McDougald; Sarah Maud (Muirhead), McQuair; Maude (Parkinson), Parkinson; Ben, Parkinson; Lydia Jr., Parkinson; Lydia Sr., picnic, and Rushton; Harry
: Glenbank
:
2 b/w negative (35 mm)
:
Large group portrait of group having picnic at Glenbank. Photo includes Dorothy Kirk, Joe Kirk, ? Crowell, Hunter Gardner, Lyle McDougald, Mrs. Bailey, Maude Parkinson, Harry Rushton, Mrs. Gardner, ? Poole, Leticia Bill, Fred Kirk, Maud McDougald, Lydia Parkinson, Rev. John Salter Allen, Mrs. Miller, Charles Gregory, Ben Parkinson, Rhuie Hamer, Jack Bailey.
Purchase Print