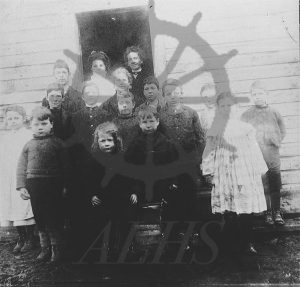 : 2014.003.5589
: F31-3/G20-14
:
: 1907-- - 1908--
: Evelyn Rusenstrom and Walter Nelson
: 1900s, Boutilier; Peteress (Shaw), Buckmaster; Alice (Dedoossenco/Dedosenco; Shaw), Dedosenco; Dimitry 'Meta' (Dedoossenco), Galena Bay School, Hayward; Mrs., Hodgson; William, McKay; Elizabeth (Shaw), school, Shaw; Alex, Shaw; Alfred, and Shaw; William
:
2 b/w negatives (35 mm)
:
Class portrait at school entrance, Galena Bay School, 1907-1908. TOP (l-r): William Shaw, Peteress Shaw, Mrs. Hayward (teacher). MID: Banford, Alex Shaw, Elizabeth Shaw, Banford. BOT: Alice Dedosenco, teacher's son, William Hodgson, Banford, teacher's son, Meta Dedosenco, Banford, Banford, Alfred Shaw.
Purchase Print