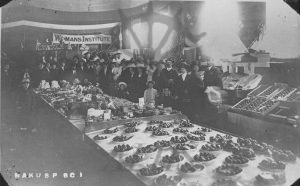 : 2014.003.558
: A32-16
:
: 1914-- - 1925--
: 409 Broadway Street W, Bailey; Ethel (Gregory), Carruthers; Mary, Davison; Rose (Gregory), Gayford; Ellen (McDougald), Grigg; Emily (Chandler), Hughes; Hildred (Gardner), Nakusp Fall Fair, and Opera House (Nakusp)
: Nakusp
:
1 b/w negative (35 mm)
:
Portrait of fair building attached to Opera House, Nakusp, during Nakusp Fall Fair, ca. 1920s. Mrs. McDougald standing just under 'E' in 'Woman's Institute' banner to right. Mrs. Carruthers standing above small boy in hat to right of Carruthers, followed by Gregory twins, Mrs. Grigg, ?, and Mrs. H. Gardner.
Purchase Print