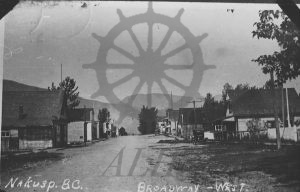 : 2014.003.557
: A32-15A
:
: 1922-- - 1929--
: 1920s, 219 Broadway Street W, Broadway Street, and Nakusp Co-operative Society
: Nakusp
:
1 b/w negative (35 mm)
:
Looking west down Broadway Street, Nakusp from intersection of Broadway Street and Edith Avenue, 1920s. Stores at left, L-R: Nakusp Co-Op, Lodge's Ice Cream, Broadway Grocers, Somers' Hardware, G.W. Jordan Menswear, Wagstaff & Vestrup Hardware, Edwards block, F.W. Jordan store. Stores at right, R-L: Harvey house (became Ted Muxlow's meat market in 1918, or other way around), Russell garage, Faucher's work shop, A.E. Picard Shoe Repair, Royal Cafe, Masonic Building (post office & Canadian Imperial Bank of Commerce), Thomas Abriel office.
Purchase Print